Tenerife, the island of eternal spring
From the coast to the high mountains, Tenerife forms a universe of strong contrasts; here you will find the perfect place to fill your holidays with unforgettable moments: hidden coves of black sand, long golden beaches, deep valleys, gigantic cliffs, exotic woods, volcanic places with a lunar aspect and impossible shapes, valleys covered with banana plantations.
The island of Tenerife, the largest of the archipelago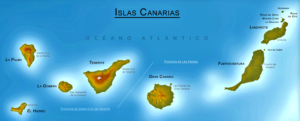 The island of Tenerife, the largest of the archipelago, will make you discover incredible landscapes and a world of sensations; open your eyes to surprising nature and all the comforts of a tourist destination, capable of putting everything you dream of in your hands, to fully enjoy your moments of leisure: climbing, paragliding, caving, horseback riding, on foot or by bicycle, deep sea fishing, scuba diving, surfing, wind-surfing and much more. You will be able to participate in unique trips and activities, such as night tours through the monuments of the cities or the observation of the stars, accompanied by expert guides, in one of the most beautiful places in the world: the Teide National Park, crowned by the majestic volcano, which owes its name, and which, with its 3,718 meters of altitude, is the highest peak in Spain.
Tenerife, l'isola dell'eterna primavera è dotata di magnifici campi da golf e di modernissimi porti sportivi, è, inoltre, il luogo ideale per lasciarti curare nei suoi centri di salute e bellezza, nei quali potrai abbandonarti al piacere delle terapie più rilassanti e salutari.
It will make you feel at home
The island can also be discovered through gastronomy and culture, characterized by a magical combination of tradition and modernity; walk through the historic centers, such as that of La Laguna, declared a World Heritage Site by UNESCO, very close to spectacular buildings, such as the Auditorium of Tenerife, a work signed by the architect and engineer Santiago Calatrava, which hosts a stable program , full of music and dance events of all styles and origins.
Try its exceptional hotels, apartments or farm houses, with their family atmosphere, which will make you feel at home.